FINAL GIFTS:
Understanding the Special Awareness Needs and Communication of the Dying
With sales of over half a million copies, Final Gifts has become a classic.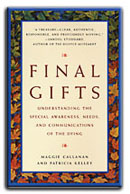 In this moving and compassionate book, hospice nurses Maggie Callanan and Patricia Kelley share their intimate experiences with patients at the end of life, drawn from more than twenty years experience tending the terminally ill.
Through their stories we come to appreciate the near-miraculous ways in which the dying communicate their needs, reveal their feelings, and even choreograph their own final moments; we also discover the gifts—of wisdom, faith, and love—that the dying leave for the living to share.
Filled with practical advice on responding to the requests of the dying and helping them prepare emotionally and spiritually for death, Final Gifts shows how we can help the dying person live fully to the very end.